Removing Tree Roots From Drains
Tree roots enter drainage systems through joints, fractures and broken pipe work in order to get to the water and nutrients inside, the roots then fan out into a root mass and the hair thin roots that initially entered the system can turn into tap roots breaking the pipe collar as they expand.
The image to the right is a good example of how severe a root mass can get in a domestic 150mm drain, , the tap roots towards the bottom of the image fanned out into a full bore mass approximately 2mtrs long.
If the damage to the pipe work is too severe and major displacement of joints or severe fracturing has occurred then an excavation is often the only way the system can be repaired. If however the root ingress is mainly through the joints and there has been no major movement to the pipe work the roots can often be removed using a root cutting techniques.
Root cutting as a maintenance scheme is common particularly on larger sewer systems where the cost or disruption associated with a full blow repair is prohibitive, on domestic systems from 100mm to 225mm it is a false economy and a permanent repair such as drain relining should be considered to stop any future ingress.
The root cutting process will return the inside of the pipe work back to its original bore but the roots will still be inside the pipe joints ready to grow back stronger and thicker, any water loss from the system will still continue which in turn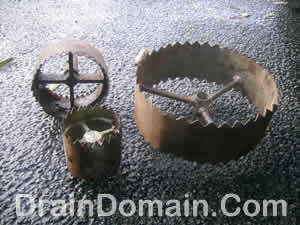 can lead to displacement and stepped joints.
Removing Tree Roots With Drain Rods & Attachments
Slight tree root ingress to joints can often be removed using drain rods with a plunger attachment on the end, it should however only be done using lock- fast drain rods. When you start to get into some serious root ingress steel rods can be used with various cutting and retrieving heads like the ones in the image to the right.
Removing Tree Roots With High Pressure Water Jetter's
Roots can be removed using standard high pressure water jetting units but in order to restore the full bore of a system specialist jetting heads and attachments are required, flail jets have chains at the rear which spin around chopping at the roots as they go and there are attachments that have forward facing cutting heads (similar to the ones in the image above) that rotate with the pressure of water being pumped through them.
There are also specialist high pressure water jetter cutting rigs that are so powerful they will cut out concrete, masonry and intruding pipe work from a system, the same bit of kit can be used for root cutting in pipe work from 150mm in diameter and above, they are particularly handy for cutting through stubborn tap roots.
Removing Tree Roots With Winching Equipment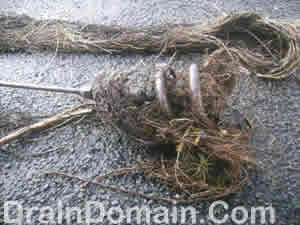 This method is mainly used on larger diameter sewer and drainage systems with winching heads being pulled back and forth through a system increasing the size of the cutting head on each run
Chemical Root Removal
There are a couple of methods where a solution or herbicide are poured into a system and the tree roots then wither and die, used widely in the USA but i don't know of a product licensed in the UK presumably due to concerns about the affect this method will have on rivers, brooks and water courses.
Safe Working Practice
Most contractors will have a drain camera inspection unit on site while they carry out root cutting, mainly to monitor progress and to make sure they are not damaging their expensive equipment on displaced joints or broken pipe work. Another good reason to inspect the system throughout the process is that it is not uncommon to find gas, water or electric cables moled through a drainage system, united utilities recently reported a major gas leak being the result of a root cutting exercise.